The Nautical Institute launches DP Operator's Handbook: Third edition
PRESS RELEASE
The Nautical Institute launches DP Operator's Handbook: Third edition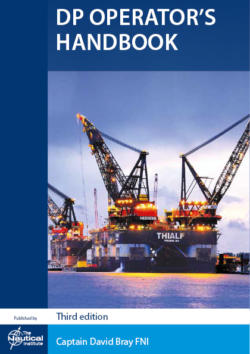 The Nautical Institute has launched the third edition of its DP Operator's Handbook.
Dynamic positioning is a highly effective tool for precision control of vessels, and its use has spread well beyond the offshore oil and gas sector. Increasingly, DP capability is found on dredgers, cruise ships, superyachts and vessels involved in renewable energy projects.
In this third edition the content has been revised to take account of advances in technology and its application aboard DP-equipped vessels. It is a practical guide for serving and trainee DPOs and trainers, so concentrates on operational functions, setting up and testing equipment, bridge management and communications.
The handbook is the flagship text for the DP Training Scheme administered by The Nautical Institute and provides an indispensable reference for all seafarers who need to understand and use this sophisticated technology.
Captain John Lloyd FNI, CEO of The Nautical Institute, said: "The DP Operator's Handbook is the go-to source of information for new operators under training and also a valuable source of reference for more experienced operators."
During the month of February the DP Operator's Handbook: Third edition is available at the discounted price of £39.00 (full price: £65.00). To order a copy, please contact pubs.admin@nautinst.org.
Ends
For more information please contact Bridget Hogan, Director of Publishing and Membership, The Nautical Institute + 44 (0)20 7928 1351, bh@nautinst.org.
Editor's notes:
The Nautical Institute is an international representative body for maritime professionals involved in the control of sea-going ships. It provides a wide range of services to enhance the professional standing and knowledge of members who are drawn from all sectors of the maritime world. Founded in 1972, it has over 40 branches world-wide and some 7,000 members in over 120 countries.
Please note: The Nautical Institute takes a capital T on The.