Free Article: Seamanship – not dying, but dynamic
The Nautical Institute Webinar report : Seamanship is not dying but dynamic, concluded a recent Nautical Institute webinar to mark the launch of the latest edition of The Admiralty Manual of Seamanship.
The Nautical Institute Webinar report
This seminal work has been comprehensively updated, while retaining the fundamentals of what every seafarer needs to know. In a wide-ranging discussion covering everything from the safe launch and recovery of lifeboats to buoy management, remote operations, and even the use of drones, it was agreed that while seamanship needs to evolve to keep pace with an evolving sector, it is as essential now as ever it was. As maritime professionals working together, we share knowledge to make better decisions – and making good decisions lies at the heart of seamanship, said David Patraiko in his opening statement.

Defining seamanship
Our first speaker, John Johnson-Allen, spent nine years on BP tankers before coming ashore, where he spent 22 years teaching shore-based seamanship courses, and is now a maritime historian and Chairman of the Institute of Seamanship. He outlined the history and, above all, the scope of the term. 'In his foreword to the last edition of the Admiralty Manual of Seamanship, Admiral Sir Trevor Alan Soar, Commander in Chief Fleet, wrote that Royal and Merchant Navy captains and commanding officers alike depend on the quality of their seamen to ensure that seamanship evolutions are conducted in a safe and professional manner. The attributes needed to achieve these evolutions professionally and without incident, include knowledge, competence, attention to detail and experience,' he said.
John went on to emphasise that seamanship is the skill of conducting a vessel irrespective of size, from the smallest dinghy to the largest bulk carrier. It is, above all, a practical art, required for everyone from the deckhand to the Master. Some of the essential requirements for seamanship include a comprehensive knowledge of the Colregs, and practical skills such as steering, stability, and ship handling.
While it is likely that in future, there will be some use of artificial intelligence (AI) in the navigation of medium to large ships, and machine learning can use data collected from marine operations to improve routing, predict maintenance and enhance safety, the sea remains unexpected and unpredictable. A sound knowledge of seamanship is essential in dealing with this. On a smaller scale, seamanship is essential for operations in the fishing industry, hauling and shooting nets. Small boats, and the skill in handling them, is still an essential part of surveying, and the establishment and maintenance of ship marks and surveys. On small vessels and large, the satisfaction of using the art of seamanship, applying the necessary skills in any situation that may occur is a significant reward to any seaman.
Seamanship absolutely is an essential skill, and always will be, said Adam Keen from Trinity House, the UK's General Lighthouse Authority. 'It's the key foundation of running a ship and operating it safely and I think it always will be. 21st century seamanship is in some ways very different from the traditional view, and yet it's still required at every level on a modern vessel. In my experience, it's critical to running the ship in a safe and orderly manner.'
Adam has been sailing as Master on Trinity House vessels for almost two years, having worked there for approaching a decade. 'As a general lighthouse authority, we're responsible for maintaining Aids to Navigation (AtoNs). We're engaged in offshore operations such as buoy work, boat work, towing, surveying, emergency duties, and a lot of coastal navigation and all these tasks require the team on board to work together and use their seamanship skills collaboratively. At Trinity House, we place seamanship as one of the key components of running our vessels and trying to carry out our operations in the safest possible manner.' He outlined how Trinity House maintains and updates those skills via a dedicated seamanship manual, which formalises experience, procedures and advice on a wide array of topics – and which is subject to regular review. All users are encouraged to submit updates and amendments whenever an opportunity for improvement is seen.

Seamanship in action

Carrying out buoy work is an excellent example of an area where seamanship is both critical and undergoing considerable development. 'This is the most critical operations that our vessels conduct. And as master, I'm always looking for the whole team to be well briefed and prepared as we're going to rely on each other's skills and experiences throughout. That's seamanship in action, teams working together,' Adam said. This requires the use of both traditional skills and modern technology:
'This can be seen in several areas on board our vessels. In previous years, the operation to lift a buoy out of the water involved somebody jumping or stepping smartly onto the buoy to hook on the crane. This might evoke excitement in some and horror in others, but with the introduction of Dynamic Positioning (DP) providing a more stable work platform and the availability of new tools, this process no longer happens; the whole thing is done remotely from the relative safety of the deck, using a tool which is used to pass a line and then a strop through the lifting eyes of the buoy. This, too, is seamanship.

However, while skills develop with time and changing technology, the principles remain the same. Sharing skills and problem solving is another area where seamanship skills are critical, and in this respect, we can share skills from other seafarers, other vessels, and other industries. We can be open to new ideas and look at things in a new way. While no two problems are ever the same, some of the most satisfying days on board the ship can be when a challenging situation arises and the team works together to solve it. In these situations, professional seamanship in every sense of the word is absolutely an essential skill, Adam concluded.

Developing the Admiralty Manual of Seamanship

Vic Vance, author of the Admiralty Manual of Seamanship, gave an insight into what was required to pull together this 13th edition of the Manual, nine years after the last update in 2014. Seamanship is developed from experience, and this is no exception, drawing not just on the 113 years of knowledge since the publication of the first Admiralty Manual of Seamanship, and the centuries before that, but also on the most recent experiences with cutting-edge kit developed for the most recent vessels.
Tradition is important to every Navy, but this edition is nevertheless rooted firmly in the 21st century and caters for modern conditions at sea, Vic said. In producing this most recent edition, he was supported by a Navy Command Warrant Officer, senior specialists and RFA Chief.

Petty Officers, who checked, validated, and supplied various technical information, procedures and drills throughout the publication. Every word, graphic and photograph of the book was checked for accuracy and relevance. For all the advances in technology, though some of the information in the book has changed little since the very first edition back in 1908. Tying bends and hitches, splicing ropes and the use of a block and tackle are very much the same. It's simply the materials that have changed and, in some areas, the terminology. 'We all know times change. The 13th edition still retains the best of the old whilst adding the latest equipment and procedures of the new,' Vic said.
While machine learning can be used to enhance safety, the sea remains unexpected and unpredictable. A sound knowledge of seamanship is essential in dealing with this.

Teaching and learning
The webinar generated a good deal of discussion – a lot of it focused around whether seamanship is mostly passed on by informal learning or through more structured teaching. 'I think it's a combination of both and it probably varies depending on what sort of ships you're on and what sort of company you're working for,' said Adam Keen. Trinity House vessels use a combination of both. With a system of onboard training certificates to ensure that people are not carrying out tasks unsupervised if they are not adequately trained to do so. 'Whenever we can, we take training opportunities to maybe launch the boat a few times in a day so that everyone can take a turn and get each element of the certificate signed off. Even just basic exposure can be helpful – if people are not on watch or not on duty, perhaps they can just turn to and observe the operation.' All this is also written in standard operating procedures, so it can be reviewed at any time.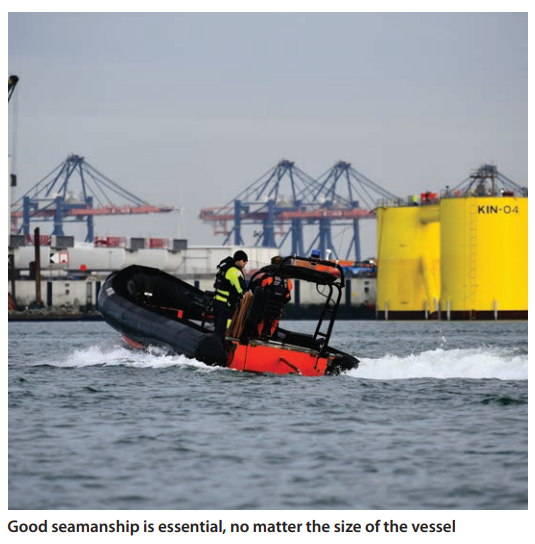 In addition, each new trainee is assigned a mentor, so that they can ask questions, perhaps informally, allowing an extra opportunity for experience to be passed on.

Maintaining and updating knowledge
The importance of practical training was very much a concern for the panel, with Vic Vance outlining the range and extent of seamanship training in the Royal Navy. John Johnson-Allen expressed some concern that there was not currently sufficient practical seamanship training for merchant seafarers, based on his observations in recent years. 'When I did my apprenticeship many years ago, we had four years learning a trade, effectively as one of the seamen, and we were shown how to do things and we did them all ourselves.' He felt that there seems to be more of an emphasis on college training at present, with young cadets going to sea for only a few months at a time before returning to college – perhaps without the opportunity for those skills to bed in. Adam was inclined to agree to some extent, having himself done a shore-based Efficient Deckhand (EDH) course over a week: 'A fairly interesting and exciting week, but it was a week, and some of those skills I've used a lot since, but some of them I haven't touched.' Part of the problem is that in some cases the development of new skills is outpacing the courses to teach them: 'We grease crane wires with a with a shore crane and a man riding basket these days, rather than somebody in a rope bosun's chair. It's a new skill, but nobody is trained specifically in that.' This is one of the many reasons why maintaining and updating comprehensive knowledge in an accessible form is so important.

In an attempt to keep this knowledge current, in Trinity House, everyone is encouraged to submit any changes or observations to operations – from the captain to the AB or the Coxswain. 'Anybody who's got some information can bring it to the bridge and work together with the on board team to get that submitted to the manual.' Similarly, Vic says, while this is the first major update of the Admiralty Manual of Seamanship since 2014, the process of refining the knowledge which goes into it has been ongoing throughout that period – but any proposed changes have to go through the specialists at Navy Command. 'Nothing leaves or comes into the book unless it's gone through and agreed by the Navy.'

Developing a mindset

There is a lot of discussion within the navy about how skills are transferred when crews are getting smaller and voyages – in particular about how you develop the mindset and the model along with the practical skills. This is also a concern in the commercial sector, where there is pressure from some employers – though not all – to reduce the amount of seatime required from cadets. The answer, again, comes down to the specific vessels on which cadets gain their seatime. 'Sometimes, cadets might spend three months on a general cargo ship where perhaps all they do is chip and paint and never go anywhere near the bridge. They don't necessarily accrue the skills up on the bridge. Vice versa on a cruise ship, they might spend all the time on the bridge and not too much time down on deck. So, it's very hard to quantify,' Adam said. It comes down to ensuring that companies – and people – live good practice, rather than just talk about it, said John Lloyd. That is a factor that is a challenge for the maritime sector as a whole, not just for the individual.

Integrating new technology

John Lloyd asked the panel what the increasing uptake of sophisticated technology such as dynamic positioning would mean for the application of seamanship skills, in particular ship handling ability. Adam emphasised that while DP is a very useful too, it is still a tool – 'Putting a ship alongside using DP becomes its own thing that you've got to apply your seamanship skills to. If you try and ask the ship to sit still, beam onto the tide and beam onto the wind it's very unlikely that it'll be able to do it. All those basic principles still apply.' Moreover, you always have consider contingency at all levels, and have an awareness of what is going on on deck 'Where is everybody? Are they safe and how are we going to get the ship back under control if it all goes wrong?'

There's a lot of work to do to ensure that we are supported by technology but not driven by it.

Future developments
One attendee asked the panel if any of them had experience of using drones, as another area which may become a key part of seamanship in the future. Adam said that while these are not officially in use yet, there are in-depth discussions on the possibility offered for fast an efficient surveys of outlying AtoNs, or to reduce risks associated with boat launches. While these are usually fast and efficient, there is an element of risk. Drones could help reduce this further: 'If a £1000 piece of plastic and electronics is lost, that's not the end of the world compared to the disaster that might happen if launching a boat goes wrong.'

Looking even further into the future, one key concern was about the possibility of autonomous and remote controlled ships, and how seamanship knowledge can be passed on to people involved in operating those ships. The Nautical Institute has done some work to define the experience and knowledge that remote control centre operators should have for dynamic positioning, to ensure that they can understand both what was being experienced on board ship, and what the data actually meant in practice. 'There's a lot of work to do to ensure that we're supported by technology and not driven by it,' John Lloyd said.

Adam Keen closed the discussion by emphasising again the importance of continued, practical training. 'We try to take as much opportunity as possible to get the most out of drills and training evolutions. We take it in turns to rotate through the roles so that everyone's got a little bit of exposure and they know what to do should they be required to do it. Seamanship is essential from the from the top to the bottom and from port to starboard.'