Free Article: The Ocean Project
The Ocean Project is a joint initiative between a number of mostly EU based organisations and training institutions with the overall aim of improving the safety of navigation. This is a EU funded project, and NI participation has been enabled through funding from UK Research and Innovation (UKRI).
Captain Aly Elsayed AFNI Senior Technical Advisor, The Nautical Institute
The maritime industry is a developed industry with a very good background and masses of data. We can do risk analysis on everything, but we want to ask how we can go beyond asking what the risks are to get better decision making. The project as a whole will be looking at both technical and human-based solutions to this central challenge, based around the premise that people make the best decisions, but need to be supported by good machines. The aim is to strive for augmentation of human capabilities rather than autonomy.
What makes this different from past projects is the breadth and depth of the study. It is divided into 11 work packages – topics, in other words – with 13 consortium members, although not all members will look at all topics. The primary objectives of the project are:
Improved navigator awareness;
Improvement of successful evasion;
Facilitating uptake of project outputs.
The partners in this project have a great deal of interest in design and the human factor. The primary leader of the project is the Western Norway University of Applied Sciences (HVL), which has one of the most active human factors in maritime team in the world. The members of the project want to improve safety by giving the decision maker the information they need when they need it, in a way that is easily understandable.
Technology like this is by definition innovative. Often, however, the balance between innovation and standardisation/ease of use is difficult to achieve. One of the reasons The Nautical Institute has been brought on board is our ability to test whatever is developed as an outcome with our users at sea, giving real, practical feedback. Typically, the European Commission decides what its priorities for the project are, and people then bid to fulfil the objective. In this case, The Nautical Institute was contacted in June 2021 by HVL and invited to bid to take part.
The opposite of accident investigation?
For the NI, a key part of the exercise will be identifying and highlighting existing good practice. The industry is already very good at accident analysis and identifying mistakes – but we will be looking at why incidents don't happen. What are the systems and the criteria that feed into safer operations? The Nautical Institute will start by trying to understand the existing roles on the bridge and how they interact. This will give us a clear outcome of the areas that we need to improve.
We will also be looking at investigation of accidents, but from a slightly different angle to usual. We want to understand what the crew did to mitigate the consequences of the accident – what went right even as other things were going wrong, and why.
A key point here is that when systems to ensure good practice are in place, the humans are much happier. The LNG sector currently has the best safety record in the maritime industry, so we will be looking closely at how they operate. We accept that they have more money to put these solutions in place than some other players – but we can still learn from them. Likewise, we will visit training institutes that are successful in teaching safety. The idea is to take these lessons and link them to other areas of the industry in a scientific way. The trouble is that the success of a training institute is not easily quantifiable, so to some extent we will be choosing who to talk to by reputation.
The industry is already very good at accident analysis and identifying their mistakes – but we will be looking at why incidents don't happen.
Teaching BRM and Colregs
One area that we will be focusing on in particular is the teaching of Colregs. This is one of the basics of maritime education, but it is taught in very different ways around the world, and we will be looking at what methods are most effective. There is still a gap in how we teach Colregs and Bridge Resource Management (BRM) – in some places, Colregs is taught very much as a standalone topic; in others it is integrated with practical scenarios, with the use of ECDIS, AIS, radar and so on. We will look at how this affects the learning process.
We want to fill in the gaps and make the knowledge widely available. The senior people on board must know what the juniors need to know, and vice versa.
Whale watch
Other work packages with which the NI is involved within the scope of the project include protecting whales from ship strike. A large part of this will be about raising awareness of how whales behave. It might seem logical to think that it is easier for a whale floating in a sea lane to get out of the way of an approaching vessel than for the vessel to move – but whales can become very vulnerable when they are feeding or recovering from a deep dive. It can take hours for a whale to get enough oxygen into its system for it to be fully awake. Of course ships are limited in terms of speed and manoeuvrability, but making seafarers aware of the issues is a start. The outcomes here will be delivered through video and webinar.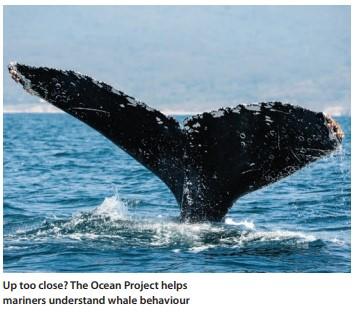 While there is a lot of work to be done on the human side in raising awareness of these issues and how they can be avoided, a separate outcome of the project will be developing new technology to detect and protect marine mammals and help support user awareness. It is possible this will use some form of innovative sensor, but at this stage it is still unclear exactly what form this will take. It might, potentially, involve using AI satellite image analysis to spot whales from space, or hydrophones for sound location.
Avoiding floating containers
A third focus will be raising awareness of the dangers posed by floating and semi-submerged containers. In presenting this outcome, we will be looking beyond the commercial sector, as the risk is particularly acute for smaller commercial vessels, such as fishing vessels, and leisure craft in particular. Another deliverable is to set up a European navigational hazard database, trying to provide ships with near realtime warnings of objects in their area – potentially, Virtual AtoNs for whales and containers. This is simpler for containers, where you can build an algorthim for drift patterns once they have been identified – for whales, not so much.
Making technology work for us
There are also some parts of the project that are unique to the NI, drawing on the extent of our connections across the industry, and particularly on our seafaring expertise. We will be looking at ways to innovate and introduce new technologies, but before that, we will be looking to link seafarers with software developers to ensure that seafarer needs are taken into account from the very earliest stages of development. This will be done through interviews with selected professionals – mainly people who are still at sea – based on Applied Cognitive Task analysis (ACTA) methodology. This gives the participant freedom to explore what they need and want from a technology, rather than being tied to a list of questions which may be based on false preconceptions. We are trying to create a common language between seafarers and developers. In particular, we are looking to develop a display which will minimise distractions, and provide really useful information in a way that is easily understood.
The aim is that the system should integrate all the different information itself and then present that information in a user-friendly way, rather than swamping people with information.
Sharing the news
The NI will be managing dissemination, exploitation and communication for the project as a whole. We will share research and results with stakeholders across the maritime and environmental sectors. This will include making submissions to the IMO and other rule making bodies, and to academia and manufacturers, so that they can build on project findings to support seafarer decision making.
We will identify how the tools developed by the project can be used once the project is complete, perhaps for identifying navigational hazards and processing data to support decision making both at sea and ashore. And we will be responsible for the general promotion of the project via the website ocean-navigation-awareness.eu, press releases, newsletters, articles and to our members through Seaways.
The OCEAN project strives to augment human capabilities through the application of technology, rather than promoting automation. The NI will be at the forefront of this work, developing these tools and sharing them with the industry for best effect – watch this space!