Who's navigating? Always moving forward
Second Officer Loid Anthony talks about how coming from a family of seafarers inspired him to pursue his own maritime career, why good situational awareness is key to safe navigation and how sharing our knowledge can help the wider industry
Name: Loid Anthony
Current Position: Second Officer
What interests you about a career at sea?
Since I was a kid, I looked up to my uncles and cousins who enjoyed their lives at sea. Seeing them happy and satisfied made me decide to pursue the same career path. I was captivated by the idea and liked the benefits that a seafaring career offers. I love to travel and engage with different cultures and I admire the beauty of the sea. This is also a profession in which you need to be flexible to changes and brave enough to conquer the challenges ahead.
What career path has led you to your current role?
After graduating from high school, I was fortunate to be chosen for a scholarship to study marine transportation at university. This began to shape me into what I am now and helped to craft my skills and knowledge. The company I currently work for also has a career development monitoring programme that enables the crew to identify further areas for development. It has helped me discover the areas I need to learn more about and think about ways in which I can adjust my approach in order to improve. I have learned how to ask, persevere, adapt and always move forward.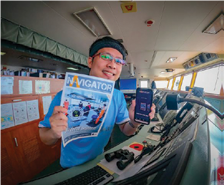 Where do you see yourself in five years' time? Ten?
I see myself as someone who will still be passionate for my craft, as well as being more confident and more experienced. I want to be someone who provides support to the whole team efficiently and with a fair sense of responsibility. Eventually, in five years' time, I would like to take the Master's examination in my country and hopefully pass, and in ten years' time I would love to be in command of one of the bulk carriers running in the part in creating a better environment for seafarers at sea with no boundaries or discrimination around culture or skin colour, where everyone can live fairly, express their insights freely and live and work on board ships without prejudice.
How do you keep your situational awareness skills fresh?
Situational awareness plays a vital part in our health and safety while we are at sea. The ability to be fully aware of what's happening around us is key. In order to cope with my duties and build a safer culture, I make sure I have enough time to rest, eliminate unnecessary thoughts through indoor and puzzle games, pursue meditation, follow a healthy diet and exercise, enjoy conversation with other crew members and keep in touch with my family. In this way, I keep my situational awareness skills sharp. Keeping myself comfortable and relaxed gives me the space to assess risk from different angles, make logical decisions, communicate well with the team and use all my senses to the best of my capabilities.
How much do you rely on technology when it comes to passage planning and navigation?
The rapid acceleration of technology over the last few decades has had a continuous impact on making our jobs a lot easier than before. I've been fascinated to see how new technologies are introduced. I like to spend time learning and understanding each piece of equipment on board ship. I find out about its limitations, strengths and weaknesses. Even as some of the more traditional navigational methods are slowly being phased out, I make sure to balance the use of new technology with the prevailing tools I have. Cross-checking multiple tools and equipment when doing passage planning and during navigation. It is so important to take in to consideration 'all available means', putting everything together and using my situational awareness skills to achieve the best results.
How has reading The Navigator helped you to carry out your duties at sea and to grow in your career?
Reading The Navigator has opened my eyes to more possibilities and opportunities for development. As an officer, it helps me to better understand our job and our life at sea. Reading about the different issues that are discussed helps me to assess my work and reminds me about what should be done to keep things on track. Through sharing knowledge like this, we build a better future for the industry.