202150 Welding job ignites nearby combustible, causing injury
An engine room crewmember was tasked with repairing a metal safety box. He set up his welding equipment in the workshop and began to weld the box. As he was working, a hot spark from the arc welding process came into contact with a small can of spray lubricant. The spark punctured the pressurised can, immediately generating a flame burst that injured the crewmember.
The victim was able to leave the workshop on his own and seek help. The victim had burns on his hands, neck and face. First aid was given, but due to the severity of the injuries he was evacuated to a shore hospital via a local Coast Guard patrol boat.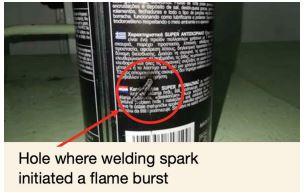 Lessons learned
● Welding is a dangerous business and the job site should be clear of all combustibles, debris and other non-essential items.
● Complacency is often a contributing factor in accidents. We must encourage an approach where each task is approached with caution – as if it were the first time it was being undertaken.
● Supervision and safety leadership are critical. Where improper routines or unsafe practices are noted, intervene and arrange for appropriate instruction and/or training.