201952 A fuzzy plan gets a fuzzy execution while no one checks
As edited from official MAIB (UK) report 1-2019
In daylight and good weather conditions a small loaded cargo vessel weighed anchor and proceeded to the pilot boarding station. Once the pilot was on board, the Master and pilot exchanged rudimentary information and completed the vessel's pilotage checklist. Following the Master/pilot exchange, the pilot took the con and began to steer
the vessel.
The Master sat in the port bridge chair and another officer stood on the starboard side of the bridge. With the engine on slow ahead the pilot began a 360° turn to port; his intention was to lose time and allow the incoming tide to rise further before entering the port approach channel. Some nine minutes later, on completion of the 360° turn, the pilot increased the vessel's speed to half ahead and steered the vessel towards the entrance of the channel, which was marked by red and green lateral buoys. The pilot manoeuvred the vessel around the starboard buoy at a speed of 5 knots and continued to steer the vessel inwards, maintaining a course that took the vessel close to the starboard edge of the channel, which was bordered by submerged training wall revetments up to 1.5 metres above chart datum.
Within a few minutes, the ship left the dredged channel without the pilot or the bridge team realising. The vessel touched bottom and scraped along the top of the training wall for about 200 metres before coming to a stop in a position about 600 metres from the 'M' beacon(see diagram). The Master stopped the vessel's engine and ordered the crew to conduct a damage assessment. As there was a danger that the rising tide could cause the ship to scrape further along the wall, resulting in more damage, it was decided to refloat the vessel immediately.
The vessel was manoeuvred east of the training wall and then south to deeper water. Pumps were used to stabilise the water ingress into the engine room.
Among others, the report found that:
The pilot did not have full positional awareness when the vessel left the dredged channel and did not fully appreciate the risk of grounding on the training wall.
No detailed pilotage plan had been made by either the ship or the pilot, and the Master/pilot exchange did not cover all hazards, including that posed by the training walls.
Insufficient use was made of the vessel's electronic navigation equipment to monitor the vessel's position and assess its progress.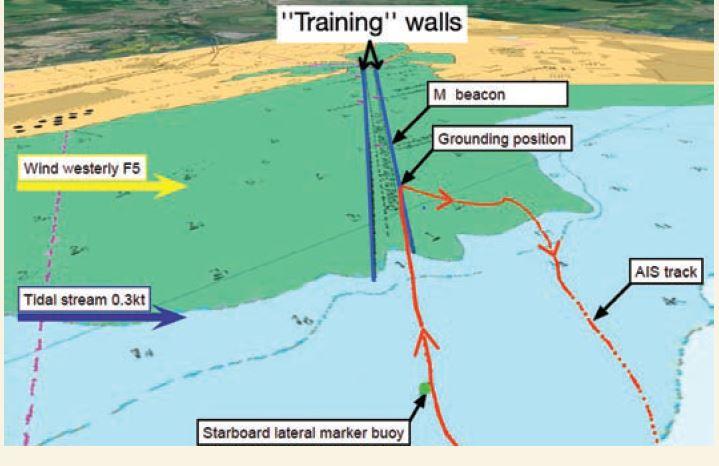 Lessons learned
When the pilot boards, the exchange of information should be comprehensive. If no plan is offered, by all means ask for one.