UK/London
Welcome to the London Branch of The Nautical Institute!
As the 'home' branch (and largest of the branches) we participate in a programme of monthly Joint Informal Meetings (JIMs) alongside other London-based maritime organisations (presenting two evening seminars per year), as well as bi-annual full-day conferences and other technical and social events throughout the year.
Please see 'Upcoming Events' below for full details of all meetings, and here for updates and organisers in 2022.
Find out more here about the JIM programme and participating organisations.
Follow us on LinkedIn and Facebook.
17:30 for 18:15 on board HQS WELLINGTON and by video conference
Joint meeting presented by London Branch of The Nautical Institute
The meeting follows-up on research by the Maritime Professional Council which obtained feedback from seafarers following reports in the press about their treatment

STCW - Is current leadership training sufficient?
Is there a place for kind leadership at sea?
What should future leadership skills training include?

A panel of speakers will address the issues - see "Upcoming Events" below or view flyer HERE
As the meeting is now in the Model Room, numbers on board will need to be limited.  Please Register HERE and indicate whether you intend to attend on board or remotely.
What we have been doing...
Thanks to those who joined a pleasant social evening at the Anchor Tap on 22 September.
The branch presented the Joint Meeing on board HQS WELLINGTON on 4 July.  An evening seminar on Lithium-ion Battery Fires in Vehicle Cargoes - see "Announcements" below.
The London Branch event celebrating the Nautical Institute's 50th Anniversary was a successful conference on Maritime Leadership in a Changing World on 8 April on board HQS WELLINGTON.
The London Branch AGM was held on HQS WELLINGTON on Friday 21 April 2022 and was followed by drinks and supper on the quarterdeck - a picture of members and guests on the upper deck can be seen here.
On 4th November 2021 the branch held a conference on the subject of Fires on Containerships on board HQS WELLINGTON. View the article in Seaways HERE.
On 7th June 2021 the branch held a video seminar on Seafarer's Mental Health.  An attendance of 65 listened to presentations by a panel of industry speakers and took part in the debate that followed.
On 2nd December 2019 the branch held a seminar on Charting Maritime careers. Our panel of industry speakers enlightened us about the many opportunities and pathways to careers in the maritime sector.
On 3rd June 2019 the branch held a seminar on container firefighting and prevention. Our panel of industry speakers enlightened us about fire and explosion events involving containerized cargoes, the regulations covering containerships and the ability/resources available onboard and at sea to respond.
-----
If you have any questions or simply wish to get in touch please contact either:
Captain Gordon Lowe (07989226965; Herald1147@hotmail.com), or
Andrew Bell (07785 586317; andrew.bell@shlegal.com).
We look forward to seeing you at our next gathering.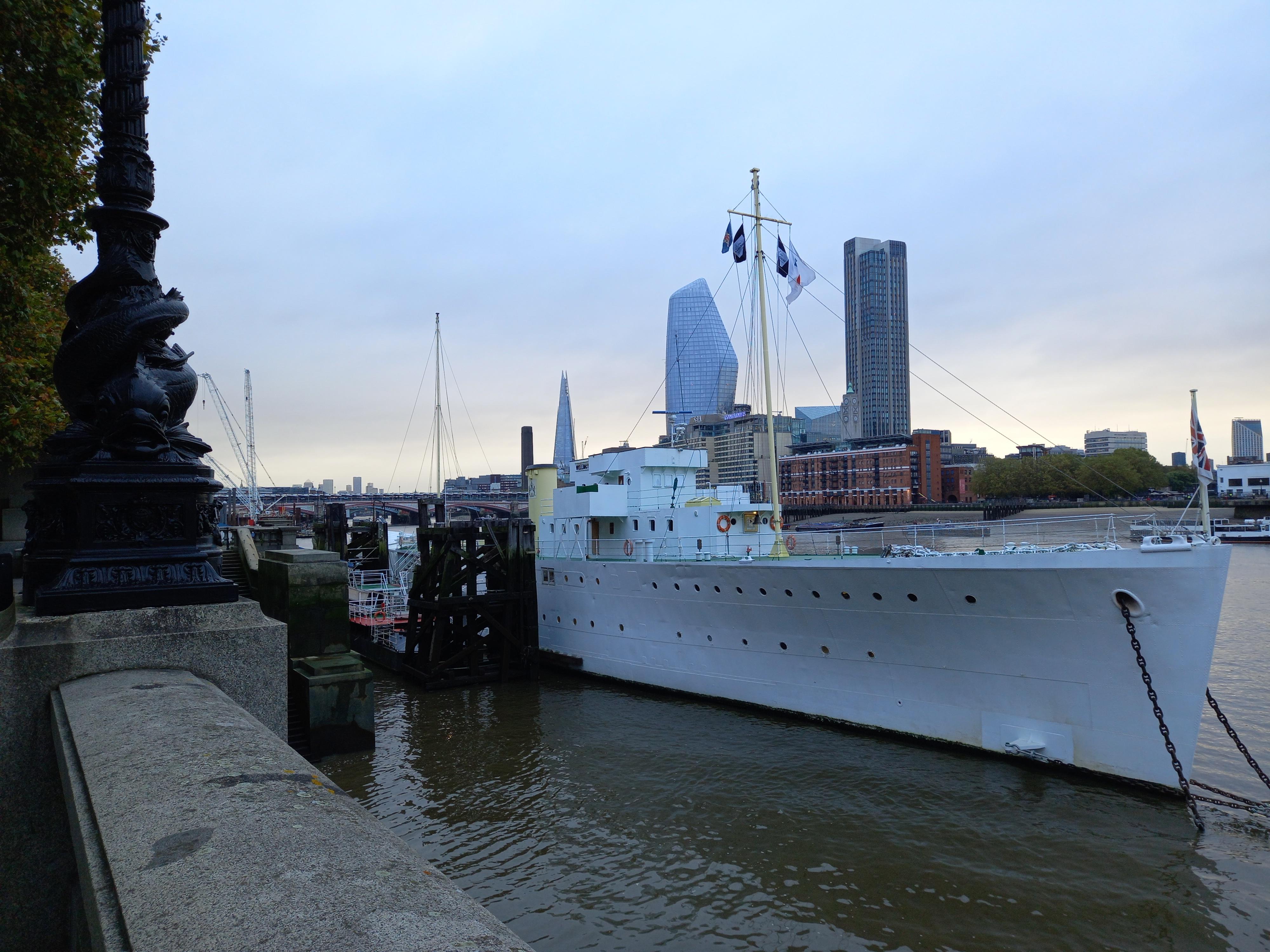 Above: HQS Wellington (livery hall for the Honorable Company of Master Mariners, HCMM) often plays host to our flagship events
(Banner image: HMS Belfast)