202203 Accommodation ladder turntable pin failure
As edited from USCG (USA) Safety Alert 05-21
A recent incident brought to light a potentially dangerous situation involving failure of the turntable pin on accommodation ladders.
The vessel's crew was stowing the accommodation ladder when the turntable pin failed. The victim, who was on the accommodation ladder at the time, fell approximately nine metres and sustained serious injuries.
Currently, there are no established timelines or requirements to replace turntable pins. Without periodic examination (and replacement if needed), corrosion can ultimately lead to structural failure.
After the incident specific inspections were undertaken; local authorities noted that many vessels had accommodation ladder turntable pins that had been in service for more than 20 years without replacement. Notwithstanding the guidelines on the maintenance of accommodation ladders contained within 74 SOLAS (14) II-1/3-9, MSC.1/Circ. 1331, and 74 SOLAS (14) III/20.7.2, none of these references include maintenance guidelines for turntable pins.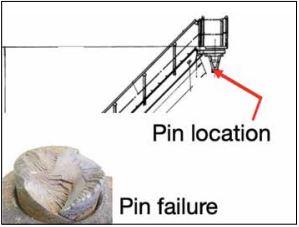 Lessons learned
While the turntable pin may seem like a minor component, failure can cause significant harm to anyone using the accommodation ladder at the time.

Periodically inspect the condition of the turntable pins and replace when necessary.

Revise accommodation ladder maintenance plans to include turntable pins.