You're here
Enclosed Spaces
Enclosed Spaces
Aug 2017 - Riyadh MOU on PSC n the Gulf Region, which covers the six Gulf states of Oman, UAE, Qatar, Bahrain, Kuwait, and Saudi Arabia, has announced that their three month concentrated CIC campaign in 2017 will focus on crew familiarisation for enclosed space entry. The Riyadh MoU CIC is aimed at verifying compliance with the applicable requirements of the SOLAS, STCW, MLC and ILO Conventions.
Aug 2016 - Caribbean MOU on PSC will hold a Concentrated Inspection Campaign (CIC)on crew familiarisation for enclosed space entry. This inspection campaign will be held for three months, commencing from September 1st, 2016 and ending on November 30th, 2016. Further information HERE.
Jul 2016 - Concentrated Inspection Campaign on Enclosed Space Entry Results
Paris Memorandum of Understanding on Port State Control (Paris MoU) and Tokyo MoU conducted a joint Concentrated Inspection Campaign (CICs), on Crew Familiarisation for Enclosed Space Entry from September to November 2015. The Indian Ocean and Black Sea MOUs also carried out this CIC.
In Paris and Tokyo MOUs, in general the results of the CIC indicate that the subject of Enclosed Space Entry is taken seriously by the industry. The CIC did not lead to an increase in the rate of detentions however the actual compliance, shown in drills, could be better. 7.9% of drills were found to be unsatisfactory.
In the Black Sea MOU, an "unsatisfactory" answer was given to a question on 3.83% of occasions. The most un-favourable results related to drills (14.35%); training manual (6.85%) familiarity with duties (4.31%).
In the Indian Ocean MOU, The most significant deficiencies found during the campaign related to: training (4%); familiarity with duties (4%); training manual (17%); drills (4%)
Further analysis will be done on the inspection results to see whether there are any recommendations that could be made to industry, flag States or MoUs.
Preliminary Results:
The CIC focused on specific areas to verify compliance with international regulations. The aim was to gather information and enforce the level of compliance.
The ship's procedures and measures that are in place with respect to enclosed spaces were checked in detail for compliance with the requirements of SOLAS during a regular Port State Control inspection, conducted under the new inspection regime (NIR) within the four MoU regions.
Port State Control Officers (PSCOs) used a list of 10 selected questions to establish that crew members with enclosed space duties are familiar with relevant equipment and have received training to carry out their duties and identify and understand the hazards associated with entry into enclosed spaces. Additionally there were questions aimed at gathering information about the existence of measures in place to test the atmosphere of an enclosed space to confirm it is safe to enter and remains safe whilst persons are within the space.
The results of the campaign will be analyzed and findings will be presented to the governing bodies of the MoUs for submission to the IMO.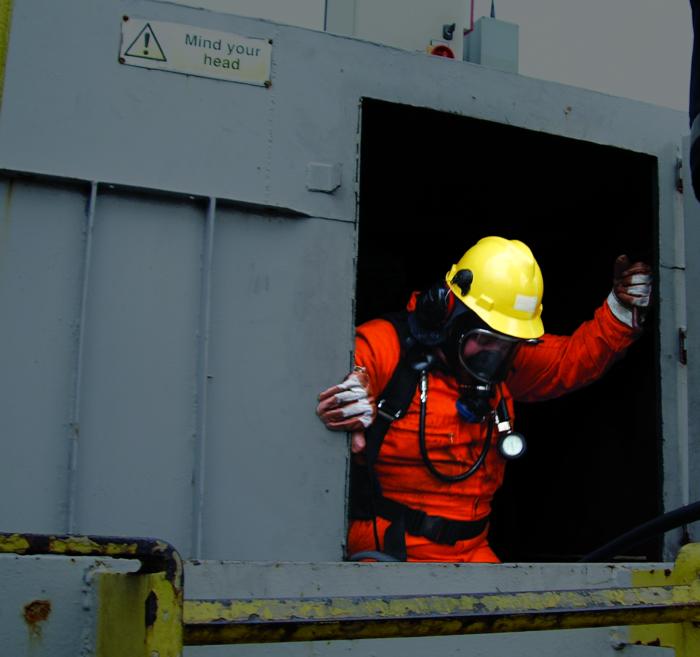 ========================================================================
As of 1st January 2015, crew members who may possibly become involved with enclosed space entry or rescue MUST participate in enclosed space entry and rescue drills once every two months. IMO Resolution MSC.350(92) also mandates the content of such drills.
It is always sad to hear of incidents on board ship or in the marine environment when someone dies entering a confined space. Oxygen is not the only thing missing on these occasions. Lack of oxygen is often accompanied by lack of training, lack of safety case procedures or a lack of equipment and it is a sad fact that we still have to look into reasons for these omissions in this day and age. This is more than a generation after several major incidents were documented and reported upon, with ensuing notices and guidelines issued
.
The largest problem is with spaces which are not perceived as dangerous – anchor lockers and deck stores which may suffer from oxygen depletion, for example. Deaths still happen despite having safety regimes, operational procedures manuals and assurance surveys in place and it is often during casual daily work schedules that these incidents occur.
If this is to change, there are four major areas which need to be tackled:
• Culture
Safety culture needs to be implemented at all levels, starting from the top. Adopting a shipboard enclosed space management plan based on onboard audits is a good new initiative. Procedures for Permits to Work need to be addressed.
• Design
Shipboard design and operation should minimise the need to go into enclosed spaces in the first place; escape possibilities should be designed in.
• Equipment
In many cases, crews are expected to use equipment that is not fit for purpose, or that is complex to use. In particular, firefighting equipment is not suitable for evacuating casualties from enclosed spaces.
• Training and drills
Good, frequent training is needed. This is a human element issue; only by working with the human element can it be solved.

This forum will focus on these areas. Contributions which enhance this are welcome, contact gh@nautinst.org
Reports of enclosed spaces incidents are also freely available in the database of the Institute's Mariners' Alerting and Reporting Scheme (MARS). Type 'enclosed spaces' into the keyword box