Introduction
In this section of the Time Pressure Guides you will find information relating to the shipowner/ship manager. The section will detail situations, issues, and subjects to give the reader an understanding of time pressures, specifically in a context of shipowner and/or manager and share recommendations on how to manage them.
The Ship Owner/Manager role in Time Pressure
The shipowner may have several roles with respect to time pressure, use the drop down boxes below to find out more.
Existing time pressure management in shipping organisations
Even if there are neither mandatory regulations nor explicit mention of time pressure in the international regulations or requirements ISM envisages the management of a variety of hazards. Companies may have already set up some check balance functions in their organisations which also take up the role of a safeguard from time pressure.
Example, a pre-chartering risk assessment, assesses a potential charter for all the risks and in doing so, time-pressure may also be assessed and if the ship involved will not be able to perform the charter within the given time slot, then it should be either rejected or a different ship assigned to the charter.
The Master's overriding authority in matters concerns safety and prevention of pollution, is sometimes used as an effective safeguard to alleviate any extreme time pressure situations.
Example, if a charterer requests a ship to take a shortcut from the planned passage to save time, and where the master assesses it as risking the safety of the ship or environment, he can use his authority to override the instruction.
It should be stressed that where excessive time pressure originates with or is transmitted by the Company, it is the Company's role to mitigate that time pressure before instructions are transmitted to the ship thus avoiding the Master being put under pressure.
However, there are also examples where these effective safeguards are not in place or placed incorrectly, or not used correctly or where a safeguard is placed correctly, it has a weakness which leads to problems.
This section of the guide will focus on these safeguards, their use, the potential weaknesses and potential solutions. The aim is to make the reader aware of these issues and take measures to improve them.
Where the time pressure originates within the 'Company' (as defined in the International Safety Management Code (ISM)), or is transmitted to the vessel by them it is that organisations role and responsibility to minimise the effect of that pressure.
Time pressure arising from maintenance
Time pressure may also result from maintenance activities. This can be exacerbated by port rules that limit work which can be carried out alongside or at anchor. This may include: -
Pressuring a ship to sail from drydock before all work is completed and/or testing is completed. This will often be accompanied by an aggressive load port ETA. Limiting time available at anchor to carry out major repairs or surveys and insufficient resources available to carry out planned maintenance.
While this can broadly be classified as part of the safety management system, this is highlighted here as a separate safeguard. Planned maintenance and management systems (PMMS) ensure that ships' systems and equipment are taken care of and maintained to ensure their continued good operation and longevity.
A well planned and executed PMMS ensures that maintenance intervals are planned that it makes the best use of available resources without putting undue pressure on the personnel involved. However, this safeguard also has its barriers.
Potential weaknesses

Solutions

Cost and PMMS are closely knit together. When the cost of running a ship and good performance of a ship is closely knit together, it can create undue pressure on the personnel involved with it.

This sort of pressure can group under indirect time pressure. Here, the maintenance of an equipment is either carried out too quickly or carried out with cheaper parts. This results in having to maintain the system at a higher frequency and probably at a higher cost, but since the cost is spread over time, it is not easily captured in the accounts of the ship. The result is extra workload for the ship's team in each time period, but a higher bonus for the management team.

For example, the fleet superintendent and ship's management team are not only responsible for the safe running of the ship but also the cost-effectiveness of it. When the cost-effectiveness of running of the ship is linked to the bonus of the employees, there may be instances when this aspect takes a higher priority than safety. When bonus is linked to the key performance indicators of the costs of running a ship, employees tend to lean towards earning a higher buck for themselves than looking at the overall safety of the ship.

Ship's performance of planned maintenance is compared within the company's fleet of other ships and is linked to the budget allocation of the ship. At times, a ship may not be performing as it should be due to external factors which is not really under its control but is penalised. An example to this is one ship is running a route with a short sea passage and a number of frequent port calls. This adds time pressure on the staff involved and encourages them complete all maintenance tasks in a shorter time to log that all tasks have been completed. At times, this may result in safety shortcuts, and at other times, staff are pressurised to work longer and outside their normal working hours to complete the tasks.

Another example to this is that one ship runs is running a route where it is costly to fly in spare parts and service engineers when compared to others which are plying in routes where this is not a challenge. This pushes the ship that is affected to procure local and cheap spares and doing the maintenance themselves, rather than flying in a service engineer. All this leads to safety issues at a later stage. Staff assessment is linked to safety management and completion of tasks in each period of time.

Having a robust PMS with due regard to the longevity of the ship systems. While it is much easier said than done, delinking cost and PMS or investing in better quality and maintenance products keeping the long-term aspect in mind, has the potential to save money and unwanted repair and maintenance.

Taking a careful approach when linking staff bonus to performance bonus can also address the situation. In the same realm, delinking a ship's performance with a fleet's performance, when there are certain aspects that are out of the hands of the ship can also add to better performance of the ship.
Where to download the guide(s)?

Time Pressure in the Maritime Industry. Shipowner/Ship Manager Guide

Time Pressure in the Maritime Industry - Shipboard Guide

Time Pressure in the Maritime Industry - Ports and Terminals Due Diligence Guide
Looking for Shipboard or Ports/Terminals guide webpages?
Diagrams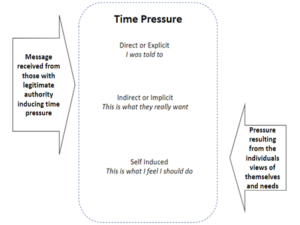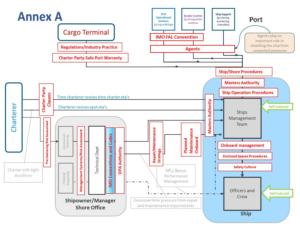 Annexes and further reading

Annex A - The Time Pressure Model

Annex B - The PACE Model

Annex C - The Pre-chartering Checklist
Conclusions
Time pressure is a specific safety risk that is not explicitly mentioned or addressed in many shipping companies as our current regulations do not directly and explicitly address this. Time pressure may also be a contributory factor in many accidents or incidents.
Taking a focused approach to this particular risk can go a long way in not only addressing the safe operation of ships but also contribute to better management of company in the long run.