Two-Day Seminar: Liquefaction of Bulk Cargoes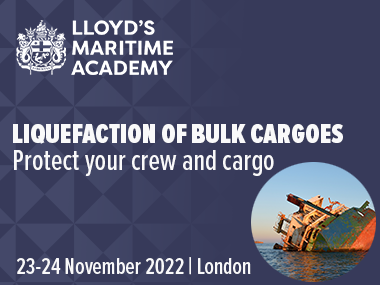 Informa and Lloyd's Maritime Academy will host a two-day seminar on bulk cargo liquefaction in London on 23 and 24 November.
Described by DNV as "a phenomenon in which a soil-like material is abruptly transformed from a solid dry state to an almost fluid state", liquefaction is relatively common in bulk cargoes such as iron ore fines, nickel ore and various mineral concentrates - and can rapidly endanger the stability of the vessel and the safety of the crew.
The seminar will provide insight into both the theory and practicalities of liquefaction, and educate seafarers and port managers alike on its potentially significant technical, financial and legal implications.
The discussions will cover themes such as:
Risk, liability and claims: the legal and financial perspective

Ports, compliance and testing: expert operational know-how

Latest guidelines and regulations: charting a course through unfamiliar waters

Understanding the threat: the science behind liquefaction

Reality check: high risk cargoes and liquefaction hot spots

Findings and implications: discovering the way forward
NI Member? Log in to view the event details below and claim your 20% discount today.
Registration is now open; for urgent enquries please contact maritime@informa.com.
The Nautical Institute is a proud partner of this event.